Unfortunately and with great regret, we are sad to inform you that we will not be holding CntrStg at CES 2010. However, we will be focusing our efforts and resources at other shows for the 2010 year. Due to several unforseen circumstances including a large reduction in blogger attendance at CES 2010 as well as some last minute pullout of key sponsors, we didn't feel we could put on the same high quality event for both bloggers and sponsors, that met the same level and caliber of last year's CntrStg event. Several companies still have interest in interacting with bloggers and we will still be hosting several key community events during CES 2010 so be sure to stay tuned to the CntrStg website, www.cntrstg.com and check your email for details of those events as they unfold.
 
If you didn't register for CntrStg last year and wish to be informed of these CntrStg events please send an email to ces2010@cntrstg.com.
After an extremely busy week, CntrStg has closed it's doors on CES 2009. We played host to 15 sessions allowing companies like HP and AMD to provide detailed technical knowledge directly to the blogger community. We also hosted 3 different community events, including the ever popular Tablet PC Meetup. As well, we managed to giveaway 4 HP Mini-Notes, 8 pairs of round trip tickets for American Airlines, a Sony Xperia X1 from the Windows Mobile team, as well as lots of other swag from companies like OtterBox and ProClip USA.
We would like to thank all of our sponsors for making this happen, as well as, all of the companies that came out to talk with the community.  Our sponsors and presenters are key to making this the event that it was. We also want to thank the community for coming out to CntrStg, We're thrilled that you have been able to enjoy our ultra-fast and stable internet connection, food and drinks, shuttle bus service, comfortable and relaxing environment, and of course, listening and blogging about the sessions you choose to attend.
We'll be back to do it all again next year.
Here is a list of articles that have been written by community leaders / bloggers about sessions and events they attended here at CntrStg during CES 2009. If you would like to have your article listed here, please send the link to Events @ CntrStg.com and we will do our best to add it to the list.
Product Reviews @ CntrStg
HP Mini-Note Hands-On Review – PocketInfo.nl (Dutch)
HP Mini-Note Unboxing Video – GottaBeMobile.com 
I'm in Love with the HP Vivienne Tam Netbook - GottaBeMobile.com
Getting Really, Really Mobile with Xavier from Notebooks.com - GottaBeMobile.com
HP Elitebook 2530p: Up Close and Personal – MobilityMinded.com
HP's Gift to the Road Warriors – MobilityMinded.com
Thoughts & Comments on CntrStg
My CES 2009 Wrap Up – MobilitySite.com
CES Tips and How to Attend for Yourself - Blu-RayStats.com
Thank You to CNTRSTG - UsingWindowsHomeServer.com
CES 2009 Is a Wrap – Whew… - GottaBeMobile.com
Gear and Blogging in Las Vegas - GottaBeMobile.com
Geeks Having Fun Being Geeks – GottaBeMobile.com
Behind the Scenes with GBM - GottaBeMobile.com
Meta Blogging: CntrStg at CES – ZatzNotFunny.com
The Value of CntrStg – MobilityMinded.com
CntrStg at CES 2009 – GearDiary.com
Thursday – January 8th, 2009
TabletKiosk's New MediSlate - GottaBeMobile.com
TabletKiosk's eo i7300 – 7" Active Digitizer and Touch - GottaBeMobile.com
Eye-Fi Changes How You Deal with Digital Pictures – MobileJaw.com
Better Batteries: The Next Generation of Lithium-Ion Technology From Boston Power - PocketPCThoughts.com
HP Unveils Their Laptop Design Contest Winner - GottaBeMobile.com
The Vivienne Tam HP Mini 1000 Story - DigitalHomeThoughts.com
HP and MTV Engine Room – DigitalHomeThoughts.com 
HP Unleashes Two New Notebooks: The dv2 and dv3 – DigitalHomeThoughts.com
Friday – January 9th, 2009
American Airlines Wi-Fi Announcement Coming Soon - GottaBeMobile.com
The Evolution of HP TouchSmart – ZatzNotFunny.com
Saturday – January 10th, 2009
Tablet and Touch Community Meetup at CntrStge a Big Hit - GottaBeMobile.com
Digifriends MID Makes Appearance At Touch and Tablet Community Meetup - GottaBeMobile.com
Windows Mobile Presentation – SmartphoneThoughts.com
We're giving away an HP Mini-Note again today! There's no question that HP's new Mini-Note is an attention getter and we have another one to giveaway today. For today's giveaway, we'll need you to do a little more than yesterdays giveaways. This time, Twitter won't be enough but don't let that stop you from Tweeting about it.
To qualify for today's draw we'll need a picture of you wearing a CntrStg T-Shirt at HP's booth or, if you're not going to be at the show floor, you can take a picture of yourself playing with the HP Mini-Note here in CntrStg.  Send this picture to us at Events@CntrStg.com . You have until 4:00pm to take that picture and send it to us. We will randomly draw a winner shortly after 4pm and you will need to be here at CntrStg in order to claim your prize. If you don't have a CntrStg T-Shirt, we've got a pile of them here in the suite.  So grab one and get those camera's snapping!
As an aside, we still have lots of other stuff to giveaway and we will be doing impromptu giveaways all day in the CntrStg suite. So don't be shy, come out and you might win!
Don't forget to check out today's schedule of events – http://www.CntrStg.com/Schedule
More Changes! The presenter for the Fireside Chat on Thursday has changed. It will now be done by Fred Bullock. As well, the Promise of Digital Entertainment and Touch the Future have changed times once again.  The Promise of Digital Entertainment will be at 3:00pm and Touch the Future will be at 4:00pm.
These changes aren't anything really major, but we wanted to let you know.
For all of you that have asked, and for the others that haven't yet; Here's a ZIP file that contains ICS files for all the presentations at CntrStg.  Now you can easily add all the presentations to your calender. Just download this file, extract the ICS files and import them into the calendar program of your choice. That's all you need to do and you can stay in touch with the going-ons around CntrStg.
In case you have not yet seen the schedule, you can see it here.
Skooba bags will be given out to the first people that registered for CntrStg and will be held for you until end of day Thursday. If you are one of the first, you will receive an email inviting you to come and pick it up at CntrStg. If you happened to register later on, not to worry. We've still got something from Skooba for you and other swag. And don't forget that we have lots of other swag and giveaways that will be available during CntrStg!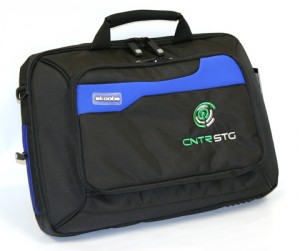 With CES fast approaching, we've had a number of requests from the community for more information about the schedule of events at CntrStg.  We're working hard to finalize all the details of which company is talking on what days and at what time. As soon as we have that nailed down, we will be posting it here for everyone to take advantage of.  I am hoping that we can have everyone in agreement and can make that schedule available to you within the next week.
In the interest of maximizing your time and schedule, we wanted to share with you the focus for each day.
CntrStg will open on Wednesday January 7th at 4pm for our Welcome Party and Keynote Live Stream. Thursday January 8th will be Mobile PC Day. On Friday January 9th, we will have Home Electronics Day. And finally, Saturday January 10th will be Mobile Phone / Handheld Day.
I realize that this doesn't provide much information, but hopefully it can help you in planning when you would like to be in CntrStg and when you can spend time on the show floor.  Don't forget, we'll have a shuttle bus running between the convention center and the Wynn to make it even easier for you to get around.
You can keep following us by checking back regularly on this site or add the following feed to your RSS feeds : http://www.cntrstg.com/feed . You can also follow us on Twitter http://www.twitter.com/cntrstg .
We're heard your request for more information from us about CntrStg. We're launching a blog page on the CntrStg site to keep you informed on all the going-ons behind the scenes. Keep your browers point here for all the latest information on CntrStg and we look forward to seeing you in January!
Austin, TX -Sept. 17, 2008 - The 2009 International Consumer Electronics Show (CES), the world's largest consumer technology tradeshow, marks the launch of CntrStg, (www.cntrstg.com, pronounced "CenterStage"), an independent blogger lounge designed to promote focused discussions and improved communication on the topics that matter most to both bloggers and technology companies. Not only will CntrStg be the single place for bloggers and corporations to meet face-to-face during CES 2009, it is expected to become a standard feature of all large industry events and tradeshows.
Founded by 15-year veteran blogger Steven Hughes, and fellow online community leaders, Eric Hicks, Mike Temporale and Johan van Mierlo, CntrStg is a proactive, community-led effort that strives to match up influential bloggers with representatives of products and companies in order to drive meaningful interaction, discussion and word-of-mouth referral. CntrStg actively represents the wants and needs of bloggers, allowing them to better interact with companies, their products and associated messages. CntrStg also provides a centralized, controlled environment for companies and product managers to share their message with interested and engaged audiences through direct, meaningful interaction.
CntrStg is not only a lounge for bloggers to relax, but also a place to network and get work done. Most important, CntrStg features a presentation space that enables companies chosen by the community to speak on topics and products that are important to them. Sponsored by HP, CntrStg provides a location for corporate marketers to make live announcements to bloggers who will then share the news with established audiences.
"The bloggers and influencers are the ones who drive the buzz and get CES news out to the buying public," said Hughes. "CntrStg ensures a steady flow of content to bloggers and secures a ready outlet for companies' news. Through the setting and process we have designed, CntrStg places the spotlight on both those presenting, as well as the influencers attending, by providing focused discussions and improving communication."
CntrStg attendees will select the companies to present at CntrStg by polling the community, ensuring all interactions return value to both the blogging community and the selected product marketers. By streamlining the process of reaching bloggers and offering the additional benefit of chartered transportation, CntrStg makes it easy to arrange a time and place for bloggers and companies to meet.
Influential community leaders, bloggers, and podcasters are welcome to register for free at the CntStg web site, the place for bloggers and corporations to meet during CES 2009. To register or learn more, please visit www.cntrstg.com.
Media Contact:
Erika Golden
blast! PR
919-833-9975 x13
erika@blastpr.com