After an extremely busy week, CntrStg has closed it's doors on CES 2009. We played host to 15 sessions allowing companies like HP and AMD to provide detailed technical knowledge directly to the blogger community. We also hosted 3 different community events, including the ever popular Tablet PC Meetup. As well, we managed to giveaway 4 HP Mini-Notes, 8 pairs of round trip tickets for American Airlines, a Sony Xperia X1 from the Windows Mobile team, as well as lots of other swag from companies like OtterBox and ProClip USA.
We would like to thank all of our sponsors for making this happen, as well as, all of the companies that came out to talk with the community.  Our sponsors and presenters are key to making this the event that it was. We also want to thank the community for coming out to CntrStg, We're thrilled that you have been able to enjoy our ultra-fast and stable internet connection, food and drinks, shuttle bus service, comfortable and relaxing environment, and of course, listening and blogging about the sessions you choose to attend.
We'll be back to do it all again next year.
Here is a list of articles that have been written by community leaders / bloggers about sessions and events they attended here at CntrStg during CES 2009. If you would like to have your article listed here, please send the link to Events @ CntrStg.com and we will do our best to add it to the list.
Product Reviews @ CntrStg
HP Mini-Note Hands-On Review – PocketInfo.nl (Dutch)
HP Mini-Note Unboxing Video – GottaBeMobile.com 
I'm in Love with the HP Vivienne Tam Netbook - GottaBeMobile.com
Getting Really, Really Mobile with Xavier from Notebooks.com - GottaBeMobile.com
HP Elitebook 2530p: Up Close and Personal – MobilityMinded.com
HP's Gift to the Road Warriors – MobilityMinded.com
Thoughts & Comments on CntrStg
My CES 2009 Wrap Up – MobilitySite.com
CES Tips and How to Attend for Yourself - Blu-RayStats.com
Thank You to CNTRSTG - UsingWindowsHomeServer.com
CES 2009 Is a Wrap – Whew… - GottaBeMobile.com
Gear and Blogging in Las Vegas - GottaBeMobile.com
Geeks Having Fun Being Geeks – GottaBeMobile.com
Behind the Scenes with GBM - GottaBeMobile.com
Meta Blogging: CntrStg at CES – ZatzNotFunny.com
The Value of CntrStg – MobilityMinded.com
CntrStg at CES 2009 – GearDiary.com
Thursday – January 8th, 2009
TabletKiosk's New MediSlate - GottaBeMobile.com
TabletKiosk's eo i7300 – 7" Active Digitizer and Touch - GottaBeMobile.com
Eye-Fi Changes How You Deal with Digital Pictures – MobileJaw.com
Better Batteries: The Next Generation of Lithium-Ion Technology From Boston Power - PocketPCThoughts.com
HP Unveils Their Laptop Design Contest Winner - GottaBeMobile.com
The Vivienne Tam HP Mini 1000 Story - DigitalHomeThoughts.com
HP and MTV Engine Room – DigitalHomeThoughts.com 
HP Unleashes Two New Notebooks: The dv2 and dv3 – DigitalHomeThoughts.com
Friday – January 9th, 2009
American Airlines Wi-Fi Announcement Coming Soon - GottaBeMobile.com
The Evolution of HP TouchSmart – ZatzNotFunny.com
Saturday – January 10th, 2009
Tablet and Touch Community Meetup at CntrStge a Big Hit - GottaBeMobile.com
Digifriends MID Makes Appearance At Touch and Tablet Community Meetup - GottaBeMobile.com
Windows Mobile Presentation – SmartphoneThoughts.com
We had John Samborski from Ace Computers  talk about their new AMD powered Maui system which is an affordabe clear QAM enabled Media Center with a built-in Audio Pre-Amp for under $1000.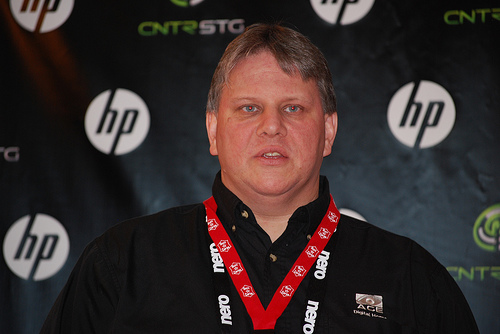 He gave us a very detailed description of what went into creating a high-end media center computer that is affordable for the average consumer.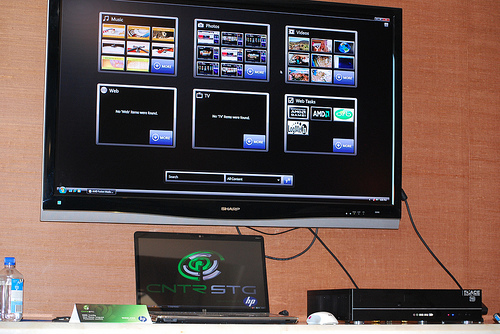 They had a very cool new user interface.
The back of the Maui even allows for hook-up to a pair of stereo speakers. The great thing about this system besides being affordable is the low power draw at the plug, it pulls down 85W on average and it drops to 15W in sleep mode.
They also discussed a really cool device they are also selling to eliminate the vampire draw of power from being plugged in. The device is called HiSaver, which is very cool powerstrip with a motion sensor that has 5 switchable outlets that turn on via a motion sensor that is mounted to your television so can eliminate power when not in use of your A/V equpment to 0. The unit sells for $99. I just found something else I need to buy.
The last presentation before the Tablet PC Meetup took place at CNTRSTG with two representatives from ACE. John Samborski, Vice President, chatted with those in attendance about an affordable Media Center PC. ACE has more certified platforms authorized with Cable Labs than any other firm, including multi-national firms.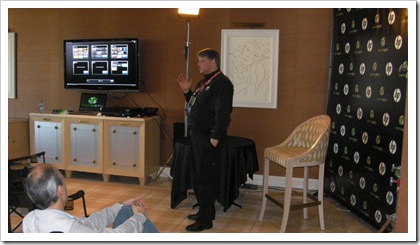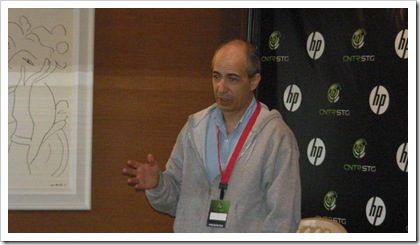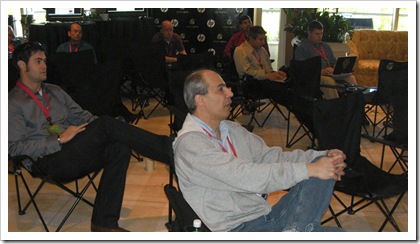 After our lunch sponsored by ProClip we had MegaZone from Sling Media came in to talk about the new mobile Blackberry client and the iPhone announcement at MacWorld. The iPhone client price has not been set yet and will be in the App Store by the end of the quarter.  He also stated that Sling is aiming to be a one box solution to many so people can get their media content anytime, anywhere.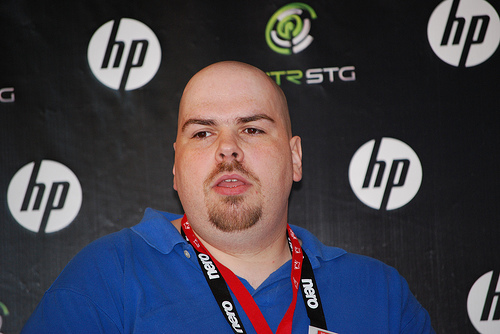 He said they are looking at new clients with the G-phone and new Palm phone that was announced at CES. Currently there  It was a great discussion where we had a very open discussion on the future of Sling Media. He probably said more than he should have, but we won't go into details because we don't want to get him into trouble.
He also announced that the EchoStar HD DuoDVR SlingLoaded ViP 922 won CNET's "Best of CES" today, and two of G4's judging panelists, Attack of the Show host Kevin Pereira and Wired's Chris Hardwick, both picked EchoStar's SlingLoaded 922 as their very favorite out of the entire 2009 CES.  The EchoStar 922's unique user interface and remote control were also selected as CES Innovations 2009 Design and Engineering Award honorees prior to the show.
After a great lunch provided by ProClip, Sling Media sat down and chatted with a group of influencers to talk about what they are doing and where they will be going.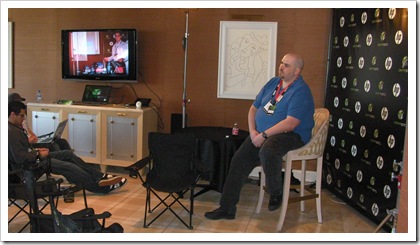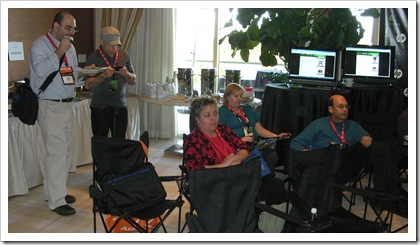 Of course some folks prefer to rest a bit after lunch and chat about all the neat things they are seeing at CES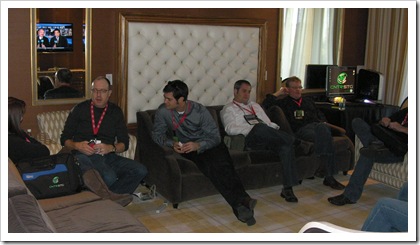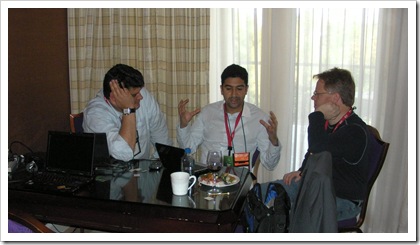 Others are taking advantage of the super fast Internet connection here at CNTRSTG to post their articles.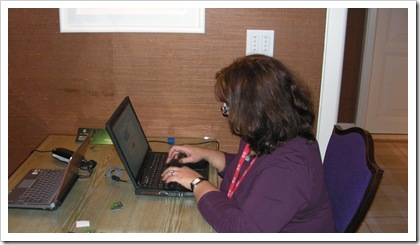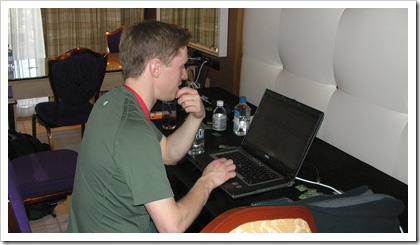 And we are still getting more and more influencers arriving from all over the world.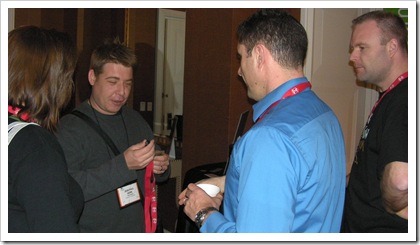 Today we have Greg Sullivan, Senior Product Manager for Windows Mobile In the last year there were 20 million sales Windows Mobile devices with 11 phones selling over 1 million each. So Microsoft realizes that one size doesn't fit all people like choice.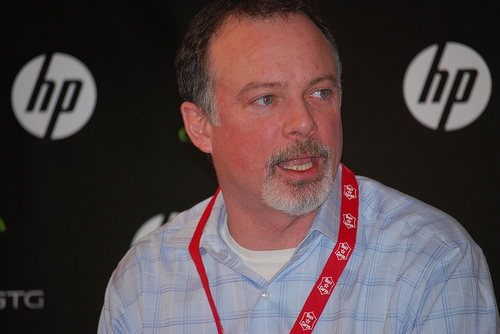 Greg provided a detailed discussion of what was briefly presented at the Microsoft Pre-CES keynote from Steve Balmer.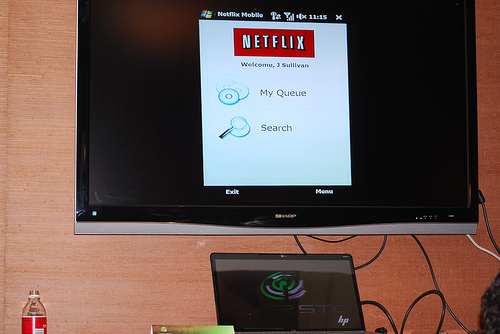 NetFlix Mobile allows you to manage your NetFlix Queue and to search for movies for download on your PC and Xbox 360.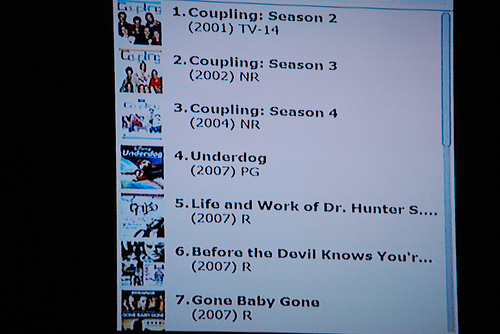 A nice easy to use User Interface.
You even get a small preview video that downloads for viewing to your phone so you can choose to download it or not.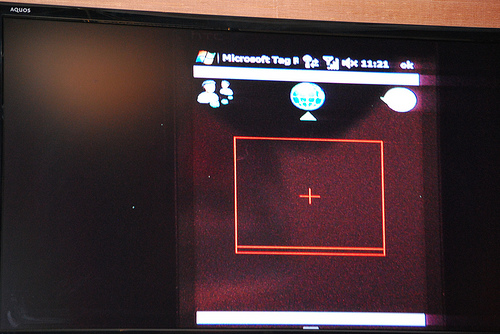 He also covered Microsoft Tag which was introduced at CES as a new barcode for Microsoft products. in order to connect you with the physical world with the online world so special offers can easily be delivered with out repackaging a product and providing product information when some is walking by a product.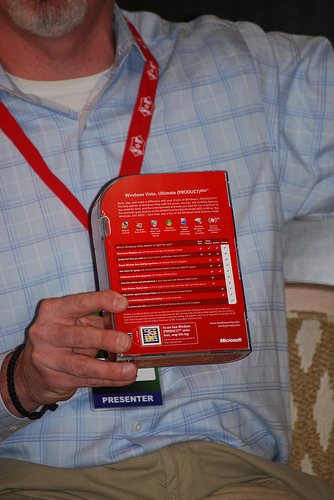 All it takes is a quick scan of the box.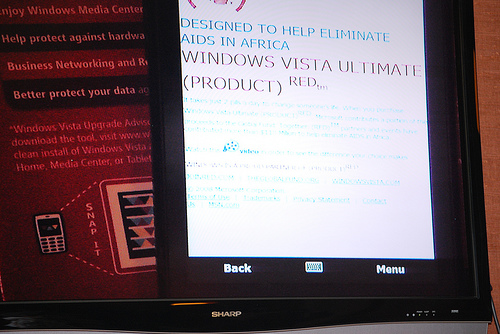 So marketers can provide more updated product information directly to the consumer.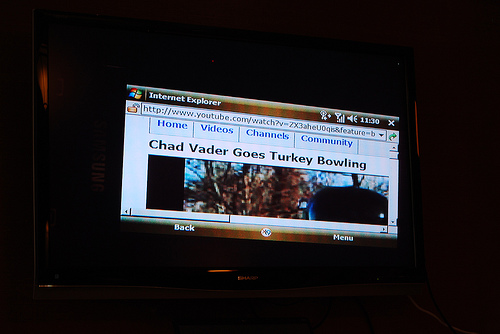 Turkey bowling , yes new version of Windows Mobile browser will now have better Flash support in the browser and other improvements for the making a better mobile user experience.
He also demonstrated the Pandora client for Windows Mobile that connects to the same PC experience connecting back to services to create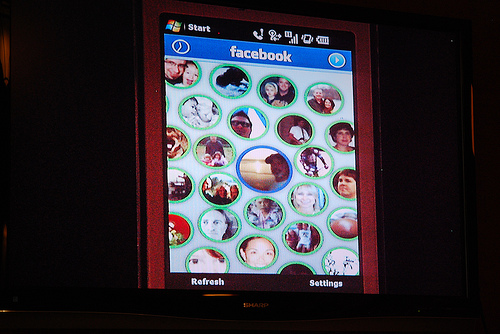 New Facebook applicaition panel on the XPERIA.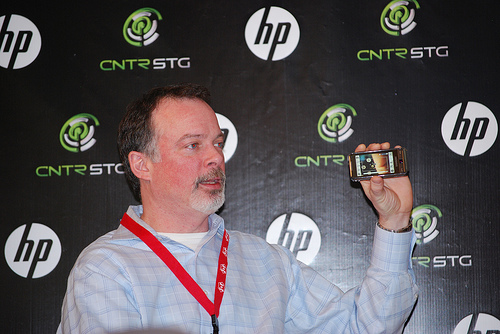 He did some quick demonstrations of some new devices and how they are getting easier to use and help make the customer have that great "gadget lust" aka I really like this device feel.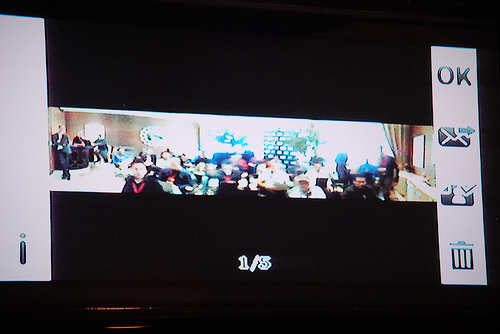 Panoramic stiching on the Touch HD taken from 3 pictures.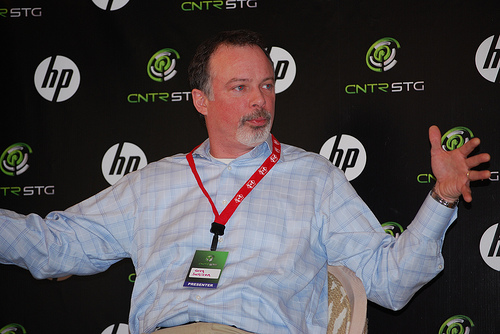 He also announced there will be no Microsoft Zune phone, they have no plans to make their own hardware, but can't expand on what Steve Balmer has already disclosed.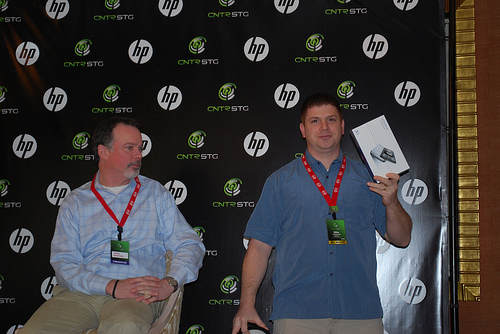 Windows Mobile also offered up a Sony Ericsson XPERIA for give away for one lucky winner.
Today we saw a presentation from Windows Mobile giving a flavor of where we are and where we will be going. Interesting discussions took place about the platform, carriers and the market as it is now and its future.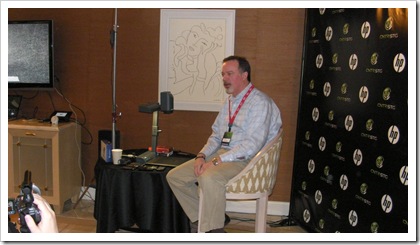 A platform update will be coming later this year that will provide the user with a significantly richer user experience.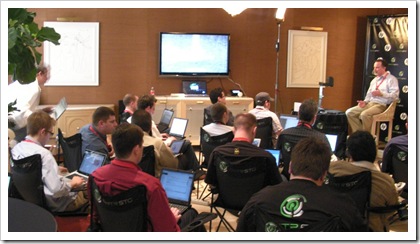 Demonstrations coupled with exciting discussions made this presentation well worth attending. CNTRSTG has provided a significantly different experience for bloggers attending CES this year. Not only the opportunity to gather and discuss amongst ourselves current trends but to have the ability to interact with vendors, offer thoughts and experiences has provided a unique opportunity for communication and acquiring knowledge.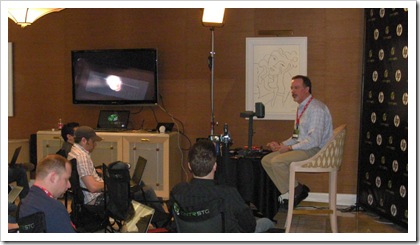 Today we have Eric Lin from HTC who wanted move away from a formal presentation and chose to open a discussion about parity. He said during CES, HTC announced the T-Mobile Shadow II and the Rose aka S743 the svelt smartphone with the slide out screen were officially announced.
He talked about differenet keyboard layouts and what work. He discussed that the keys and layouts go through many different case scenarios on average consumer usage patterns and from studies and requests from carriers. He also discussed how sound and haptic feedback (vibration).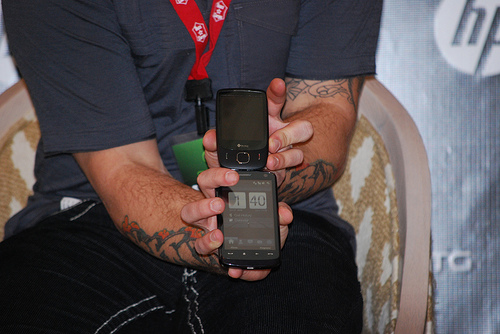 He talked about the different devices and how users use them and wanted to open the floor questions and discuss parity among many manufacturers. All phones today must have a browser, email, and entertainment  and wanted know what HTC should be targeting in the future.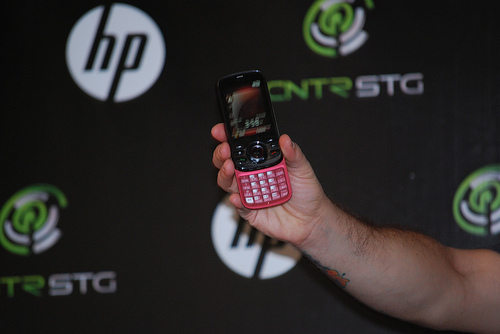 Some of the topics discussed were acceleromters, GPS, 3.5″ earphone jacks, easier accessibilty to turning bluetooth and wifi radios to manage power as request standards on all phones. Another was software integration with the device like contact dialing from phone, Facebook, Twitter, and a killer browser experience.
Our good friends at GottaBeMobile recorded a video of somone who not only shares my gear-lust, but may easily put it to shame,  Xavier Lanier from Notebooks.com showing off all the gadgets he stuffed in his pockets in his Scott e-Vest.
 
Here is a quote from Xavier:
I decided to ditch my backpack and wear my gadgets instead. I've packed my Scott-E-Vest with my HP Mini 1000 and a couple of dozen gadgets.
Scott E-vest products look to be popular at CntrStg this year, I brought two myself – the Ultimate Hoodie and the SeV Sport Coat.