See the full press release below;
In addition to first-of-its-kind environmental certifications, Sonata Li-ion battery cells deliver sustainable performance for three years – three times longer than most other notebook computer batteries. In fact, HP is providing a three-year warranty on the batteries – the first and only notebook computer provider in the industry to offer such a warranty.
Now available at http://www.hpshopping.com/, the new HP battery based on Sonata is available as an accessory priced at $149.99. Later this month, the HP battery will be available as a point-of-sale option for consumers buying new HP notebooks at www.hpshopping.com. The battery's "drop-in" form factor enables it to be used with existing computers – including models in the HP Pavilion, HP HDX, Compaq Presario and HP G series. A complete list of compatible individual models is available HERE. More information can also be found on Boston-Power's site at http://www.boston-power.com/enviro .
"From the beginning, our goal has been to help notebook computer users benefit from optimal mobility with dependable, high-performance, environmentally sustainable batteries," said Boston-Power Founder and CEO Dr. Christina Lampe-Onnerud. "HP's endorsement of Sonata is a great step forward in popularizing this battery technology."
"HP delivers customers innovative products that respect our planet," said Jonathan Kaye, director of consumer notebooks marketing at HP. "The Enviro Series program gives PC users longer lasting batteries that improve their computing experience while reducing the number of batteries that need to be recycled. That's a win for everyone."
Boston-Power is the first and only provider whose rechargeable Li-ion battery cells have earned the prestigious Nordic Ecolabel certification. The company has additionally earned a similar world's-first certification for its battery cells from the Chinese Environmental Protection Agency. Sonata's patent-pending, whole-system design makes it capable of benefiting a wide range of end-applications – from consumer electronics to transportation. As a result, total cost of ownership benefits inherent in notebook computer batteries prove increasingly impressive in cases where even greater power is required."
Just last week they announced that they are adding $55 Million in Growth Capital.
"The Funding Will Fuel Lithium-Ion Battery Developer's Global Expansion of Manufacturing, Sales, Marketing and R&D. The Investment Follows News That HP Will Be First to Deliver Boston-Power's Sonata Battery in Early 2009″
Please vist the Boston Power website for the full press release.
After a great lunch provided by ProClip, Sling Media sat down and chatted with a group of influencers to talk about what they are doing and where they will be going.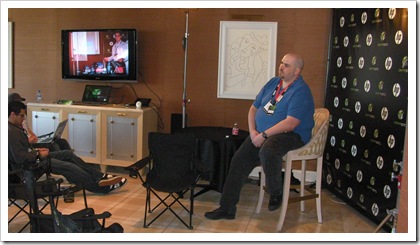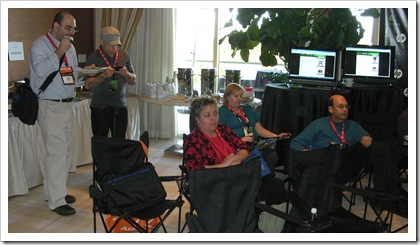 Of course some folks prefer to rest a bit after lunch and chat about all the neat things they are seeing at CES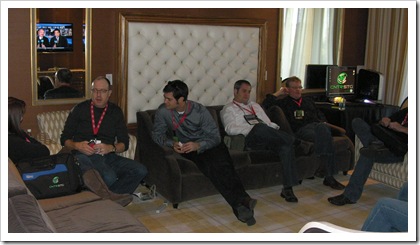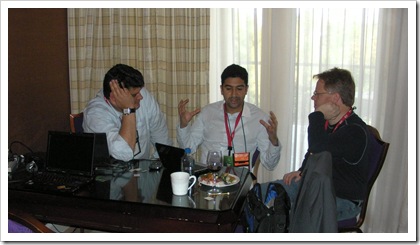 Others are taking advantage of the super fast Internet connection here at CNTRSTG to post their articles.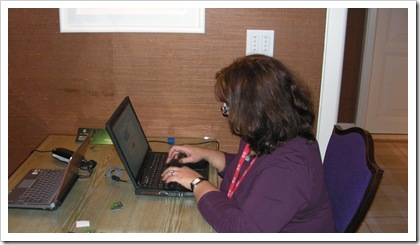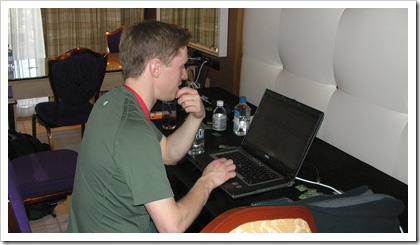 And we are still getting more and more influencers arriving from all over the world.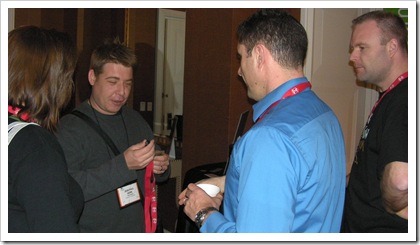 Today we saw a presentation from Windows Mobile giving a flavor of where we are and where we will be going. Interesting discussions took place about the platform, carriers and the market as it is now and its future.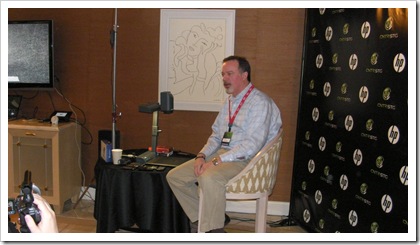 A platform update will be coming later this year that will provide the user with a significantly richer user experience.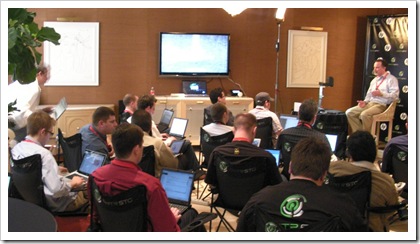 Demonstrations coupled with exciting discussions made this presentation well worth attending. CNTRSTG has provided a significantly different experience for bloggers attending CES this year. Not only the opportunity to gather and discuss amongst ourselves current trends but to have the ability to interact with vendors, offer thoughts and experiences has provided a unique opportunity for communication and acquiring knowledge.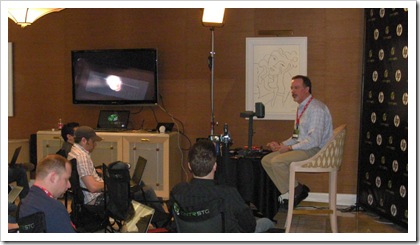 HP sponsored a round table discussion on the promise of Digital Entertainment at CNTRSTG today. It was an exciting discussion covering a myriad of topics relating to today's trends in Digital Entertainment.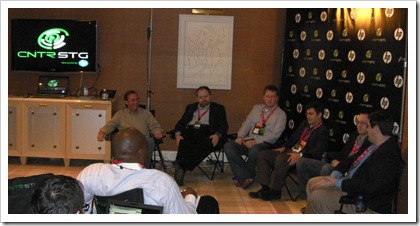 The audience was engaged in an interactive discussion … this was a great addition to the CNTRSTG agenda.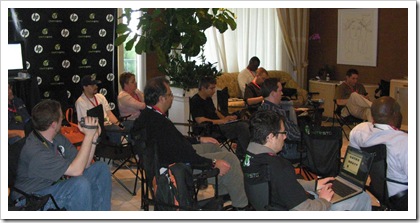 Adapt Mobile will be presenting at 10 am this morning. Adapt is a leading accesory company in Europe and Asia. They will be presenting how accessories can help you survive a recession.  Their line is customized and geared to the latest models of mobile devices available. Prizes will be given away to the attendees as well including their latest Pocket Projector.

Today we had the opportunity to hear a presentation from Dr. Cristina Lampe-Onnerud from Boston Power.  She has pioneered the use of lithium-ion and other materials to deliver more powerful, longer lasting, safer and cost-effective batteries for laptops, PDAs, cell phones and other electronic devices.
During her presentation, she shared her thoughts and encouraged a dialog about where battery technology stands today, where it needs to be tomorrow and what the future holds.  Simply stated, she was dynamic in her presentation and created a positive look into the future of batteries that we will be using.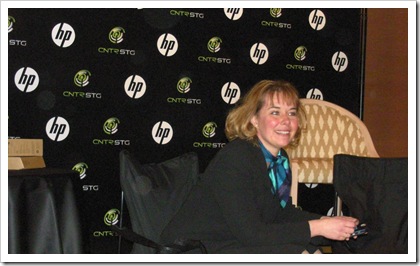 Check out Boston Power here

I just got through watching an AWESOME demo from Eye-Fi at CNTRSTG.  It is a pretty awesome means of uploading photos automatically from your digital camera to your computer and/or favorite photo site with the Eye-Fi Wi-Fi SD memory card.  It is a definite must have addition to your "geek gear bag"!
Wirelessly upload photos to your computer and to your favorite photo sharing, printing, blogging or social networking website. It's never been easier to share your memories while they are still fresh.

Like the Eye-Fi Home, the Eye-Fi Share wirelessly connects to your home Wi-Fi network and uploads your pictures. It delivers photos to your computer, but also includes our unlimited, secure web sharing service to automatically upload your pictures to your favorite photo site. Choose from among more than 20 of the most popular websites and some up-and-comers too. View the complete list of Online Destinations for your Eye-Fi Card.

The Eye-Fi Share offers the added convenience of uploading your photos, even when your computer is turned off. Using it's Smart Boost capability, the Card will determine the most efficient path to upload pictures, going quickly to your computer if it's on and then from there to the web if you've elected to share online, or going straight to the web if the computer is off. The photos will be stored securely and delivered to the computer the next time it is turned on.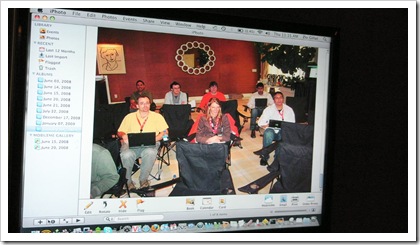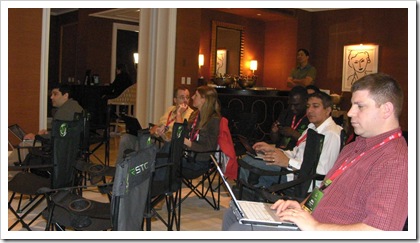 Check out the Eye-Fi demo here
Why wait in line for tonight's keynote at CES while you can hang out with your peers in advance. Have drink, relax, work and watch the Keynote streamed at CntrStg.
CntrStg will be opening their doors at 4 pm for registered attendees and this will be the official launch of CntrStg's 5 day event filled with presentations. Check out their complete schedule.
For all of you that have asked, and for the others that haven't yet; Here's a ZIP file that contains ICS files for all the presentations at CntrStg.  Now you can easily add all the presentations to your calender. Just download this file, extract the ICS files and import them into the calendar program of your choice. That's all you need to do and you can stay in touch with the going-ons around CntrStg.
In case you have not yet seen the schedule, you can see it here.