If you are still wondering what CntrStg is and what it has to offer to bloggers besides the fastest internet connection on the Vegas strip; engaging presentations and conversations;b and a place to relax, hang and get some work done - I did a quick video tour after my long hour of sleep the night(well actually early the morning) before we opened the doors yesterday of our Suite at the Wynn with some folks from HP. My kids Tweetted me the link this afternoon -Thanks Girls, I miss you too!!!
Enjoy and hope to see you at CntrStg at CES 2009!!!
More Changes! The presenter for the Fireside Chat on Thursday has changed. It will now be done by Fred Bullock. As well, the Promise of Digital Entertainment and Touch the Future have changed times once again.  The Promise of Digital Entertainment will be at 3:00pm and Touch the Future will be at 4:00pm.
These changes aren't anything really major, but we wanted to let you know.
For all of you that have asked, and for the others that haven't yet; Here's a ZIP file that contains ICS files for all the presentations at CntrStg.  Now you can easily add all the presentations to your calender. Just download this file, extract the ICS files and import them into the calendar program of your choice. That's all you need to do and you can stay in touch with the going-ons around CntrStg.
In case you have not yet seen the schedule, you can see it here.
Skooba bags will be given out to the first people that registered for CntrStg and will be held for you until end of day Thursday. If you are one of the first, you will receive an email inviting you to come and pick it up at CntrStg. If you happened to register later on, not to worry. We've still got something from Skooba for you and other swag. And don't forget that we have lots of other swag and giveaways that will be available during CntrStg!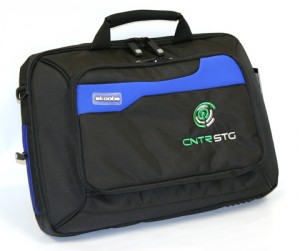 With CES fast approaching, we've had a number of requests from the community for more information about the schedule of events at CntrStg.  We're working hard to finalize all the details of which company is talking on what days and at what time. As soon as we have that nailed down, we will be posting it here for everyone to take advantage of.  I am hoping that we can have everyone in agreement and can make that schedule available to you within the next week.
In the interest of maximizing your time and schedule, we wanted to share with you the focus for each day.
CntrStg will open on Wednesday January 7th at 4pm for our Welcome Party and Keynote Live Stream. Thursday January 8th will be Mobile PC Day. On Friday January 9th, we will have Home Electronics Day. And finally, Saturday January 10th will be Mobile Phone / Handheld Day.
I realize that this doesn't provide much information, but hopefully it can help you in planning when you would like to be in CntrStg and when you can spend time on the show floor.  Don't forget, we'll have a shuttle bus running between the convention center and the Wynn to make it even easier for you to get around.
You can keep following us by checking back regularly on this site or add the following feed to your RSS feeds : http://www.cntrstg.com/feed . You can also follow us on Twitter http://www.twitter.com/cntrstg .
The Skooba Satchel laptop bag has been selected as the official bag to be given to bloggers attending the first-ever CntrStg event during CES 2009. Skooba is proud to support the inaugural gathering and hopes the lucky recipients enjoy the event as well as the bags! 
And now see how it looks…….
During the CES there are many events for press and influencers. CntrStg came to live to combine many individual meetings to one location for companies and the online influencers.
Showstoppers on the other hand has been around for many years and is open to all different media sources. It is a smaller version of the CES floor only open to the media. Please visit Showstoppers to register for this event.
You are welcome to come back to CntrStg after Showstoppers ends. We are conveniently located in the Wynn as well
We just got a great tip in about having an application on your Mobile device to check exhibitors and conference sessions for the CES 2009. However the CntrStg presentation schedule won't be on this. Keep posted we are finalizing our schedule right now.
Stay up to date with us through
 "This year, CES has gone mobile! Introducing CES Mobile – a new navigation tool you can use as soon as you get to CES. With CES Mobile, you can search for and locate exhibitors and conference sessions you want to see.
CES Mobile allows you to: 
Search the exhibitor directory
View exhibitor listings
Find conference sessions – times, dates and locations
Build a mobile event plan with the exhibitors and sessions you want to see
Book a reservation at a local restaurant
Call a local taxi service
CES Mobile is a slimmed-down mobile version of the MyCES Personal Planner portal; the official attendee search and planning tool for the 2009 International CES®. If you have registered for MyCES and have already created an event plan, you will see all the exhibitors and sessions that you have bookmarked. Even if you don't have a MyCES portal, you can still use CES Mobile to help you navigate CES.
Download CES Mobile now by simply texting CESMobile to 41411*. If you have an iPhone, go to your browser and type inhttp://ces09mobile.boopsie.com/v2/txt/.
CES Mobile supports:
Windows Mobile®

 

(5.0 or greater)
Palm®

 

(5.4 or greater)
BlackBerry®

 

(4.0 or greater)
iPhone®
Symbian®

 

(Series 60 3rd edition) and
Java-based devices (J2ME CLDC/1.1 MIDP/2.0)
Don't be caught empty handed on the show floor. Download CES Mobile now and experience the ease of navigating CES like never before!
*Standard Text Message and Data rates apply"
We're heard your request for more information from us about CntrStg. We're launching a blog page on the CntrStg site to keep you informed on all the going-ons behind the scenes. Keep your browers point here for all the latest information on CntrStg and we look forward to seeing you in January!