I just got through watching an AWESOME demo from Eye-Fi at CNTRSTG.  It is a pretty awesome means of uploading photos automatically from your digital camera to your computer and/or favorite photo site with the Eye-Fi Wi-Fi SD memory card.  It is a definite must have addition to your "geek gear bag"!
Wirelessly upload photos to your computer and to your favorite photo sharing, printing, blogging or social networking website. It's never been easier to share your memories while they are still fresh.

Like the Eye-Fi Home, the Eye-Fi Share wirelessly connects to your home Wi-Fi network and uploads your pictures. It delivers photos to your computer, but also includes our unlimited, secure web sharing service to automatically upload your pictures to your favorite photo site. Choose from among more than 20 of the most popular websites and some up-and-comers too. View the complete list of Online Destinations for your Eye-Fi Card.

The Eye-Fi Share offers the added convenience of uploading your photos, even when your computer is turned off. Using it's Smart Boost capability, the Card will determine the most efficient path to upload pictures, going quickly to your computer if it's on and then from there to the web if you've elected to share online, or going straight to the web if the computer is off. The photos will be stored securely and delivered to the computer the next time it is turned on.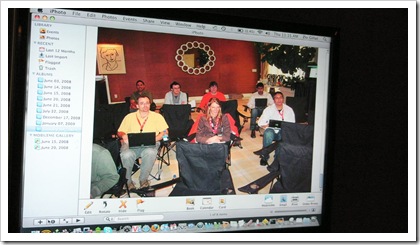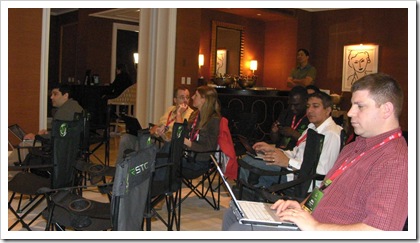 Check out the Eye-Fi demo here
Why wait in line for tonight's keynote at CES while you can hang out with your peers in advance. Have drink, relax, work and watch the Keynote streamed at CntrStg.
CntrStg will be opening their doors at 4 pm for registered attendees and this will be the official launch of CntrStg's 5 day event filled with presentations. Check out their complete schedule.
More Changes! The presenter for the Fireside Chat on Thursday has changed. It will now be done by Fred Bullock. As well, the Promise of Digital Entertainment and Touch the Future have changed times once again.  The Promise of Digital Entertainment will be at 3:00pm and Touch the Future will be at 4:00pm.
These changes aren't anything really major, but we wanted to let you know.
For all of you that have asked, and for the others that haven't yet; Here's a ZIP file that contains ICS files for all the presentations at CntrStg.  Now you can easily add all the presentations to your calender. Just download this file, extract the ICS files and import them into the calendar program of your choice. That's all you need to do and you can stay in touch with the going-ons around CntrStg.
In case you have not yet seen the schedule, you can see it here.
Skooba bags will be given out to the first people that registered for CntrStg and will be held for you until end of day Thursday. If you are one of the first, you will receive an email inviting you to come and pick it up at CntrStg. If you happened to register later on, not to worry. We've still got something from Skooba for you and other swag. And don't forget that we have lots of other swag and giveaways that will be available during CntrStg!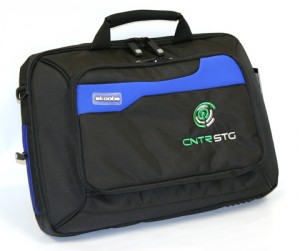 TabletKiosk, based in Torrance, CA, manufactures and distributes a complete line of slate style Tablet PCs and Ultra-Mobile PCs featuring resistive touch screen and active digitizer input options. 
Our lightweight and portable Tablet PCs are widely used in the Healthcare, Hospitality, Education, Control Systems and Government vertical markets.
Please visit our schedule to plan your days at CntrStg. TabletKiosk will present on Thursday at 9 am
Eye-Fi's Co-Founder and Vice President of Business Development, Ziv Gillat, will be presenting the newest Eye-Fi technology which will be sure to excite. The Eye-Fi family consists of wireless memory cards for your digital camera. 
Please visit our Schedule to plan your visit to CntrStg.
As of today we had over 500 people registered for CntrStg. However we had to reject some registered attendees since they did not qualify as a tech blogger. This is not something personal but this is just the format of our CntrStg event @ CES 2009.
Registration will be open until the end of Tuesday January 6th. Make sure when you register that you supply qualifying links as listed on our registration page.
"In order to register you must have a valid website, blog, podcast, or online video show that covers consumer electronics. CntrStg reserves the right to deny admitance based on these requirements."
The Tablet PC MVP's have chosen to use the CntrStg venue as the location for their annual Tablet PC & Touch community meetup.
The event will take place on Saturday, January 10, 2009 between 3pm and 6pm at CntrStg located at the Wynn in Las Vegas.
Each year this is a highlight of CES when users, developers, OEMs, friends, and those curious about Tablet PCs, mobile computing, touch, and all of the things we cover here get together for some good food, good talk, and a bevy of prize giveaways. Who knows what this year will bring, but in year's past folks have walked away with some pretty amazing prizes.
Check out more information over here.
Longer lasting notebook batteries, new technology and engineering, and the batteries are greener as they last longer and hold charges better. Boston Power just announced HP as their first customer to offer its next-generation notebook computer battery.
Their presentation at CntrStg will be on Thursday, January 8 at 1 pm
What were you doing the last time the battery in your laptop ran out of juice?
If you're like most people, you'll recall that occasion immediately…and usually with much angst!
Boston Power is committed to helping us all overcome those challenges. Comprising a rock star team from the lithium-ion (Li-Ion) battery and notebook PC industries, the company has developed the world's longest lasting, fastest charging, most environmentally sustainable and safest Li-ion battery cell – Sonata.
Boston-Power Founder & CEO Dr. Christina Lampe-Onnerud comes to CntrStg for a spirited discussion about where battery technology is today, where it needs to be tomorrow, and how she thinks we'll get there.
Dr. Christina Lampe-Onnerud, Founder & CEO of Boston-Power 20-year career includes running one of the world's largest battery R&D labs for Arthur D. Little/TIAX, serving as a member of the team that developed the battery for the first Palm…and it now includes another industry-first.
Last month, Boston-Power announced that Sonata will be available first to HP customers as an upgrade option.  Coming to market under HP's new Enviro Series moniker, consumers will be able to purchase the HP notebook batteries with Sonata technology for use with select HP consumer notebook PCs in early 2009. Notably, these batteries will come with a three-year warranty – the longest battery warranty available from any notebook PC provider.
In addition to discussing notebook computer batteries, Christina will share her thoughts on the role that next-gen Li-ion battery technology will play in a range of other applications – from consumer electronics to transportation.
To attend you need to qualify according to the guidelines at the registration page.
For registered CntrStg attendees we will provide free transportation to and from CntrStg at the Wynn and the LVCC.