Phil McKinney from HP sat with a large group of CNTRSTG attendees discussing HP Touch.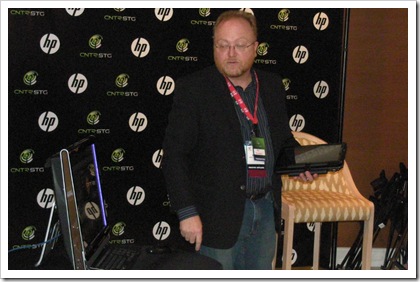 Do you know what was the first HP Touch product?
Produced in 1981, it was called the 2700. It was made for one year but from that introduction, there came a long series of developments in the HP labs to eventually lead us to what we were able to see today. The Misto Table was a concept device that we saw at CNTRST. Unfortunately it is a device for research but from it, there was an understanding gained that developed into an insanely simple Touch computer experience. Pretty much if you know how to use an ATM machine, you can use the HP Touchsmart.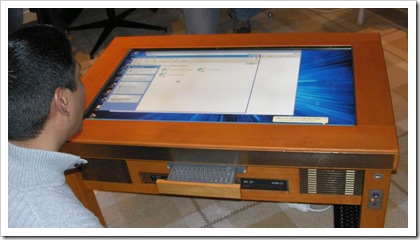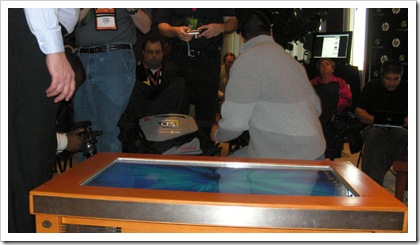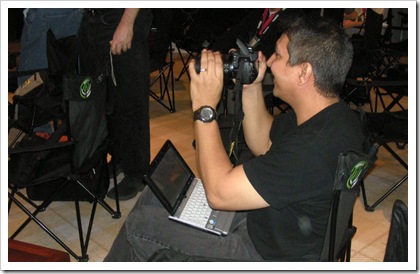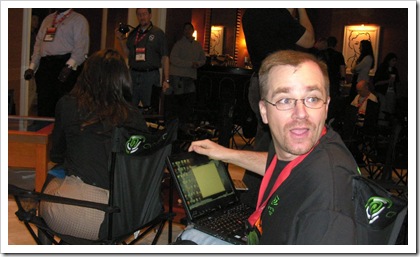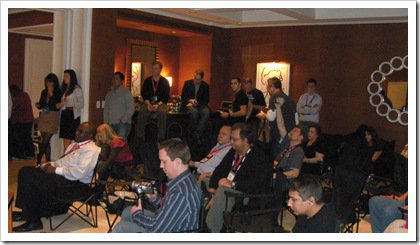 Touch is personal!
Where will we go from here? Gestures? HP has entire labs dedicated to gestures…. as well as entire labs dedicated to TOUCH. This was an awesome presentation.
In this session Carlos Montalvo the VP of Product Experience at HP, lead roundtable and abstract of the industry report card with a panel of experts in the industry.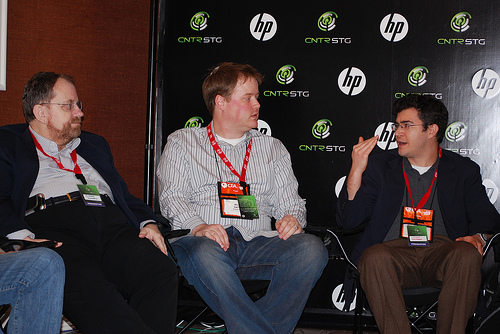 The discussion revolved around the connected entertainment and evolution of the digital home and rating the consumer electronics industry and their evolution from the previous CES.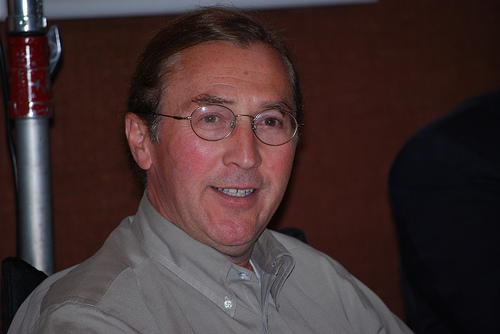 Carlos lead the panel with questions on grading the industry from the previous year to now. The panel consisted of: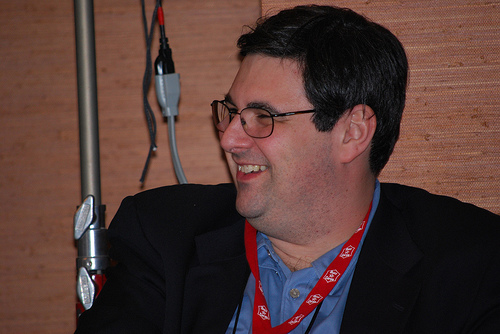 Ross Rubin from NPD gave the industry a C.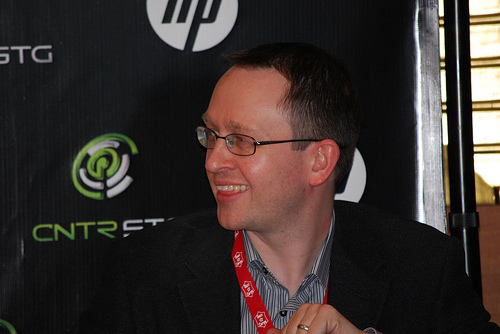 Terri Walsh from We Got Served gave the industry a C-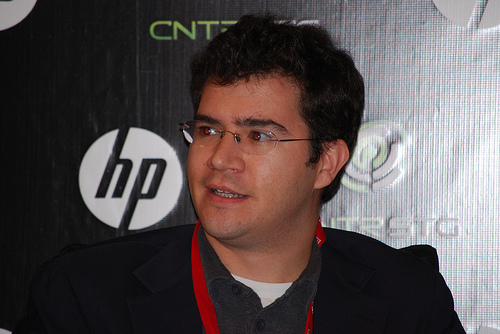 Wilson Rothman from Gizmodo gave it a C-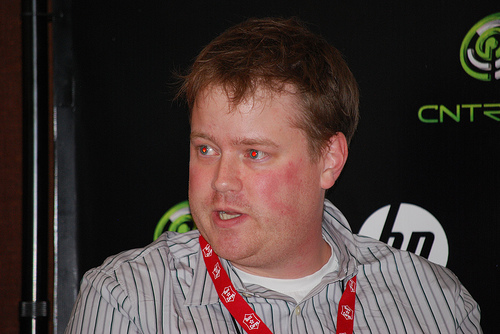 Will Smith from Maximum PC graded the industry a  D+.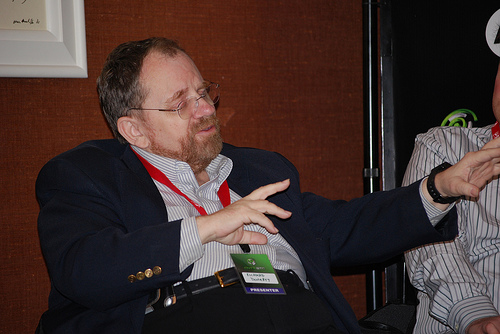 Richard Doherty  from Envisioneering gave the industry a D- .
The group gave a very honest review of digital media industry and what consumers want as well as the take aways from the Consumer Electronic show. The general consensus is that the industry has failed deliver on their promise to consumers, but are trying to get it right like they did when DVD media was delivered.
During this sessions at CntrStg we had Matt McAndrew from HP come in and provide us with an overview how they have improved their laptops over a few years and showed us the evolution of making a stronger and lighter laptop in the next version based on repair costs that customers experienced making a better laptop and increase the value for the consumer.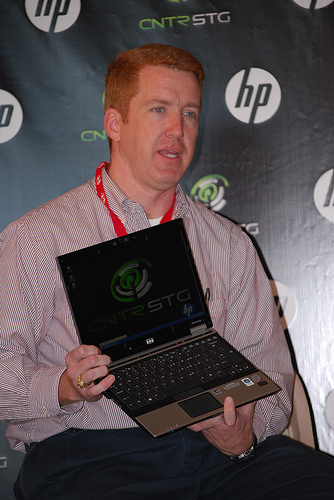 Not only was a show and tell it was a highly interactive session with bloggers and their communities for feedback.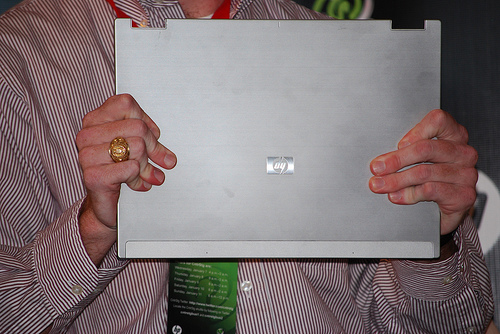 They passed around the lids from their older and newer laptop lids with new finishes and added durability and rigidity.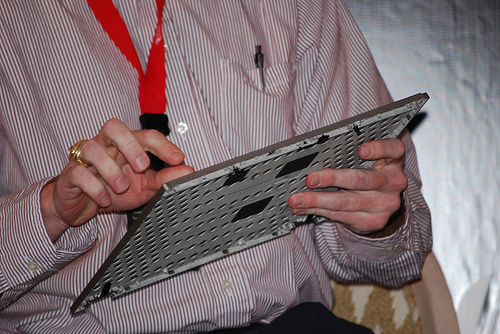 On the back of the lid is an aircraft inspired honey-comb plate is added for torsional rigidity while keeping the notebook as light as possible. Rigid not only on the top and bottom, but also as side impact and on the corners where most impacts from dropping occurs.
Matt talked about their hard drive drop-protection technology that parks the hard drive when its dropped and how it has improved.  HP also mentinoed that are looking into opening up a developer SDK so end-users can tap into using the accelerometer for custom applications like taping the side of the display to flip pages, windows, moving the screen up and down to scroll.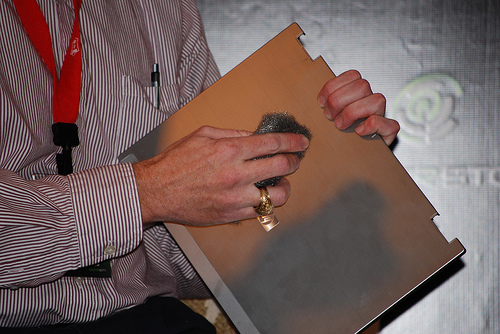 He also did a quick example how they test their new Dura finish and tested with steel wool from average usage patterns by consumers on the previous version with out it and the current version with the anodized aluminum durafinish which didn't scratch at all. Amazing process. On the bottom there is also a new painting surface to reduce the wear and tear occurs from every day sliding and placement on flat worksurfaces.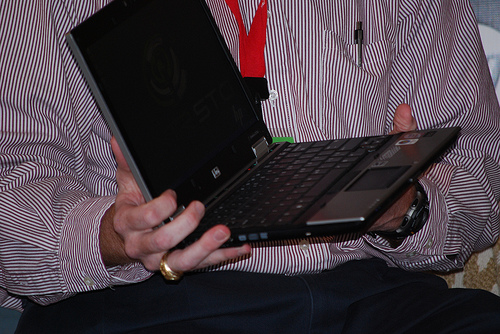 DuraKeys, (I know my wife would have loved this in her current HP notebook) that a finish on it to reduce the wearing off of letters from the keys. This came directly from feedback given by bloggers and customers This new finish has a 50% increase in resistance to wear.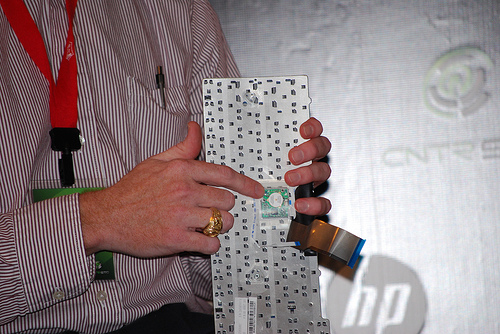 A mylar film on the back of the keyboard guides the liquid away from the critical components in the laptop that would have expensive repair and replacement costs.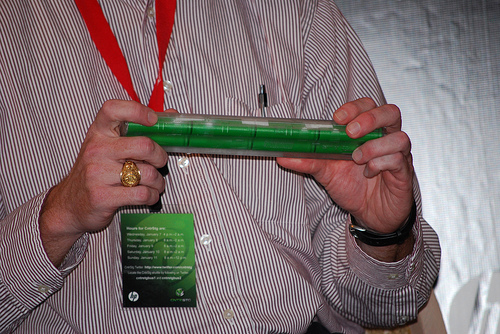 HP also made improvements in battery life and the circuitry to charge the battery to not only extend the battery, but also how fast it charges.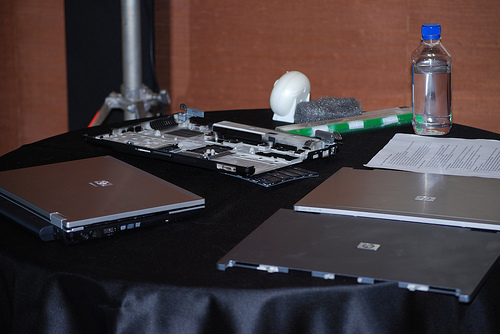 HP has also done some rugged-ablity and reliablity tests with MIL specs via third party testing with a table on their website on what the specs are for each of their laptops.
HP sponsored a round table discussion on the promise of Digital Entertainment at CNTRSTG today. It was an exciting discussion covering a myriad of topics relating to today's trends in Digital Entertainment.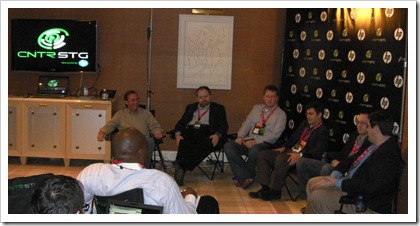 The audience was engaged in an interactive discussion … this was a great addition to the CNTRSTG agenda.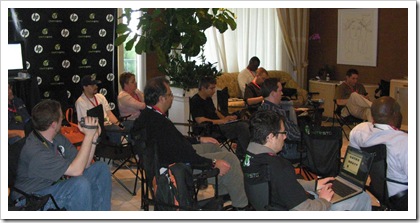 We know why you fly is the slogan for American Airlines, who are focused on their customer and meeting their needs not only on why people fly, but how they fly.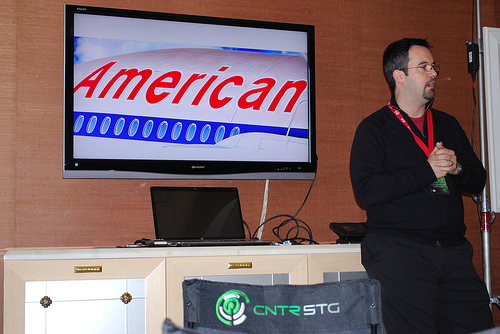 Billy Sanez addressed and fully engaged with a room full of blogers at CntrStg asking them how they fly and how they can improve their services.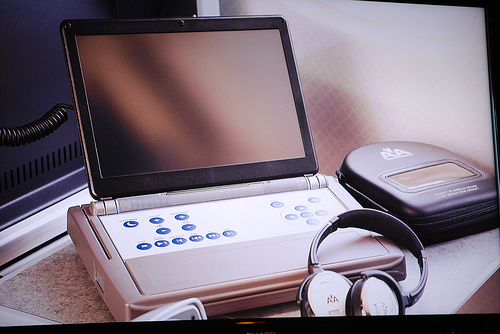 When consumers fly they carry all their gadgets with them and want them for both work and entertainment in their bags.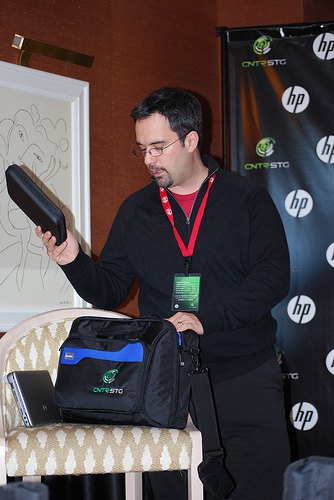 However they generally limted to the batteries of their devices as well as the extra power they can carry in their bags. Since cloud computing and dependency on internet connection is now coming to the main enterprise in order for people to get work done there is an increasing need to be connected not just by the business traveller, but the average traveller as well.
Feedback was taken from around the room on WiFi access, in flight entertainment, power in the seats, Admirals club, and peer input on why they fly -price, comfort, and gaining miles in their AA Advantage program.  
Not only by bloggers in the room, but by those following their blogs and Twitter feeds.
At the end of this very informative and interactive session two winners were chosen for a pair of roundtrip tickets anywhere in the continental United States.
Adapt Mobile a leading accessory company in Europe and Asia has just finished their presentation on the effect of the global economy and how accesories can help companies survive the recession.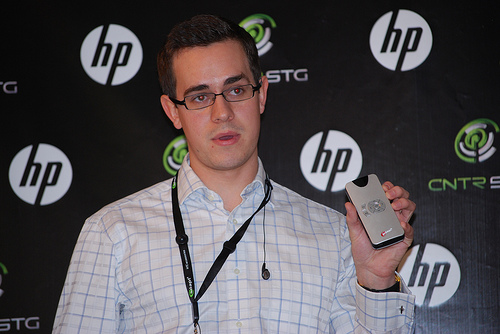 Adapt Mobile has several designs that are customized and geared to the latest models of portable consumer electronics that are broken down into three main categories and are aimed to help consumers in their decision and purchasing experience as well as help build the brand of the product:
pX- Phone Experienc for HTC SOny ERicsson, Blackbeery, Palm
mX - Multimedia – Appple,Asus, Acer
gX Gaming Xperiencee NItnetdo Wii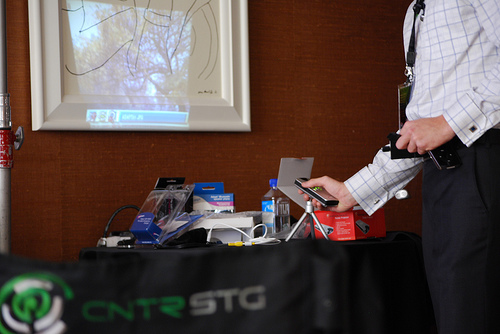 The big hit of their presentation was their Pocket Projector than can project an image from 6″ – 50″ using LCoS optical technology with white LED as the source at 10 Lumens. It has an external 3-in-1 AV jack and can also project images and video from the built-in memory or memory card.
They had a quick contest for a marketing slogan voted on by the audience and gave one away.
Adapt Mobile will be presenting at 10 am this morning. Adapt is a leading accesory company in Europe and Asia. They will be presenting how accessories can help you survive a recession.  Their line is customized and geared to the latest models of mobile devices available. Prizes will be given away to the attendees as well including their latest Pocket Projector.
If you are still wondering what CntrStg is and what it has to offer to bloggers besides the fastest internet connection on the Vegas strip; engaging presentations and conversations;b and a place to relax, hang and get some work done - I did a quick video tour after my long hour of sleep the night(well actually early the morning) before we opened the doors yesterday of our Suite at the Wynn with some folks from HP. My kids Tweetted me the link this afternoon -Thanks Girls, I miss you too!!!
Enjoy and hope to see you at CntrStg at CES 2009!!!
Tracey Trachta, HP's leader of Global Initiatives for the PC business, gave a great presentation at CNTRSTG on how the company's latest marketing effort to engage and connect with the influential Net Generation is bringing new users, viewers and readers to youth and tech sites around the world.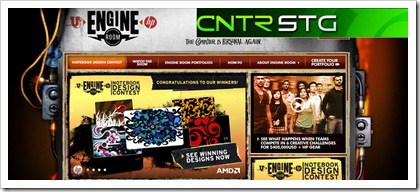 Tracey was joined by SuChin Pak, the host of a TV program which was the centerpiece of the effort.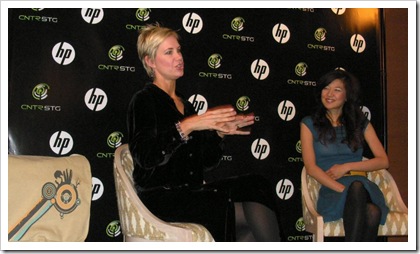 We had the opportunity to see this year's winning laptop design … it was very cool!  Check out the press release below!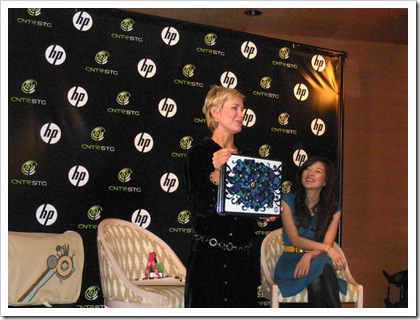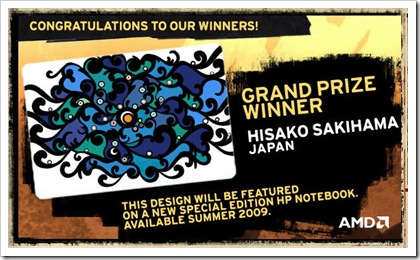 HP, MTV and AMD today named Hisako Sakihama, a 27-year-old designer from Japan, the winner of its "Engine Room" Notebook Design Contest – a worldwide competition to design the next HP "artist edition" notebook PC.

Sakihama's design of sea and sky in Okinawa was chosen as the grand prize winner from the regional finalists by a judges panel composed of regional heads of creative at MTV, art directors at Goodby, Silverstein & Partners, and industrial design managers at HP. The design will be featured on an HP limited-edition notebook PC featuring the AMD Turion X2 Ultra™ notebook platform later this year.

The regional finalists received the most votes and represent the top designs from Asia Pacific, Europe, Latin America and North America. To view the winning designs, visit www.mtvengineroom.com.

This year, artists from 94 countries submitted nearly 17,000 designs with the hopes that their art would be displayed on an HP notebook PC. More than 62,000 votes were received from 159 countries, making the Engine Room Notebook design contest one of the most successful user-generated contests from HP to date.

This year's regional finalists include Rodrigo Daniel Diaz from Argentina, Carlos Alonso Zebenzuy from Spain, Abhishek Goswami from India, and Stacy Rezzola from the United States. The regional finalists will have their art transformed into notebook attachable "skins" from SkinIt, which will be made available to consumers around the world.

"The response we've received from creative people around the world has been astounding," said David Roman, vice president, Marketing Communications, Personal Systems Group, HP. "Design is one of the most personal ways we communicate with each other. It's evident from these winning designs that there are some very talented young artists out there. We look forward to delivering the next-generation HP 'artist edition' notebook PC designed by Hisako Sakihama."

People who visited the "Engine Room" website and voted for their favorite design were automatically entered in a sweepstakes to win technology prizes from HP.

"As the processing power behind today's most advanced visual computing experiences like gaming and HD video, AMD understands the importance of stunning images," said Nigel Dessau, senior vice president and chief marketing officer, AMD. "In partnering with leading global brands like HP and MTV, AMD brings notebook inner beauty and performance to match the inspired creativity of the artists participating in the notebook design challenge."

"Engine Room"

"Engine Room" is an original series, created by MTV, HP and partners in which young artists from around the world can showcase their creativity and bring art to life with technology.

The first series of "Engine Room" challenges brought together four teams of digital artists from Latin America, Europe, Asia and North America to compete on an original, short-form online series that aired on mtvU – MTV's college network – and on MTV channels around the world. At the conclusion of the 2008 "Engine Room" series, host Suchin Pak announced the latest digital artistry challenge – the HP, MTV and AMD "Engine Room" notebook design challenge.
Find out more about MTV EngineRoom here

Today we had the opportunity to hear a presentation from Dr. Cristina Lampe-Onnerud from Boston Power.  She has pioneered the use of lithium-ion and other materials to deliver more powerful, longer lasting, safer and cost-effective batteries for laptops, PDAs, cell phones and other electronic devices.
During her presentation, she shared her thoughts and encouraged a dialog about where battery technology stands today, where it needs to be tomorrow and what the future holds.  Simply stated, she was dynamic in her presentation and created a positive look into the future of batteries that we will be using.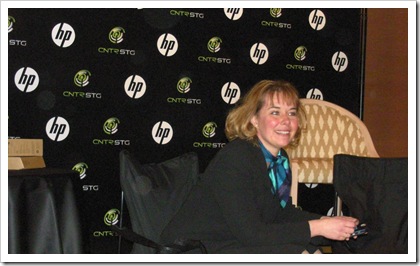 Check out Boston Power here