Unfortunately and with great regret, we are sad to inform you that we will not be holding CntrStg at CES 2010. However, we will be focusing our efforts and resources at other shows for the 2010 year. Due to several unforseen circumstances including a large reduction in blogger attendance at CES 2010 as well as some last minute pullout of key sponsors, we didn't feel we could put on the same high quality event for both bloggers and sponsors, that met the same level and caliber of last year's CntrStg event. Several companies still have interest in interacting with bloggers and we will still be hosting several key community events during CES 2010 so be sure to stay tuned to the CntrStg website, www.cntrstg.com and check your email for details of those events as they unfold.
 
If you didn't register for CntrStg last year and wish to be informed of these CntrStg events please send an email to ces2010@cntrstg.com.
After an extremely busy week, CntrStg has closed it's doors on CES 2009. We played host to 15 sessions allowing companies like HP and AMD to provide detailed technical knowledge directly to the blogger community. We also hosted 3 different community events, including the ever popular Tablet PC Meetup. As well, we managed to giveaway 4 HP Mini-Notes, 8 pairs of round trip tickets for American Airlines, a Sony Xperia X1 from the Windows Mobile team, as well as lots of other swag from companies like OtterBox and ProClip USA.
We would like to thank all of our sponsors for making this happen, as well as, all of the companies that came out to talk with the community.  Our sponsors and presenters are key to making this the event that it was. We also want to thank the community for coming out to CntrStg, We're thrilled that you have been able to enjoy our ultra-fast and stable internet connection, food and drinks, shuttle bus service, comfortable and relaxing environment, and of course, listening and blogging about the sessions you choose to attend.
We'll be back to do it all again next year.
The last presentation before the Tablet PC Meetup took place at CNTRSTG with two representatives from ACE. John Samborski, Vice President, chatted with those in attendance about an affordable Media Center PC. ACE has more certified platforms authorized with Cable Labs than any other firm, including multi-national firms.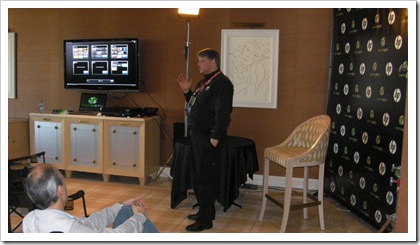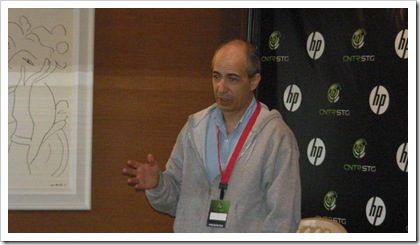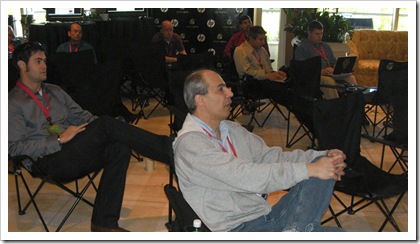 After a great lunch provided by ProClip, Sling Media sat down and chatted with a group of influencers to talk about what they are doing and where they will be going.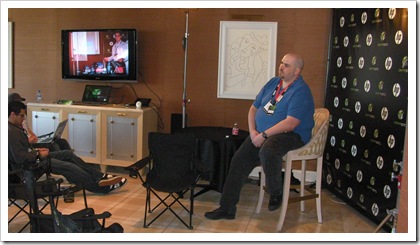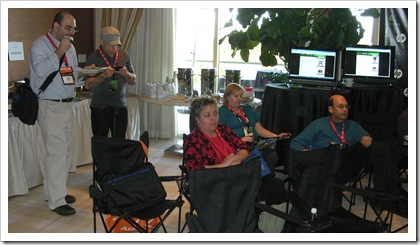 Of course some folks prefer to rest a bit after lunch and chat about all the neat things they are seeing at CES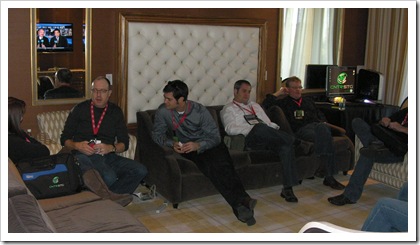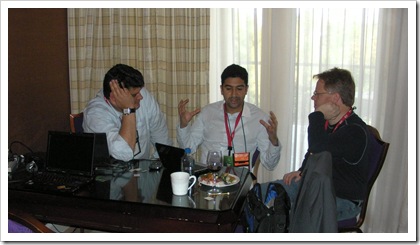 Others are taking advantage of the super fast Internet connection here at CNTRSTG to post their articles.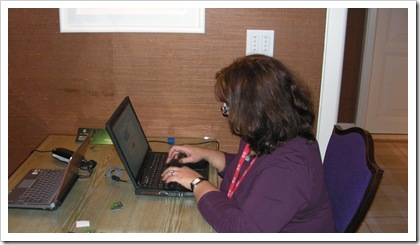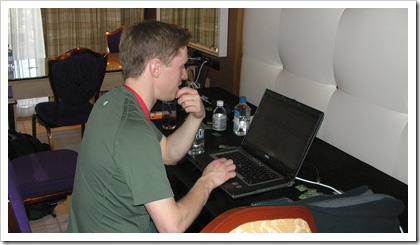 And we are still getting more and more influencers arriving from all over the world.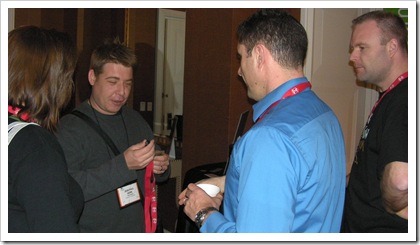 Today we saw a presentation from Windows Mobile giving a flavor of where we are and where we will be going. Interesting discussions took place about the platform, carriers and the market as it is now and its future.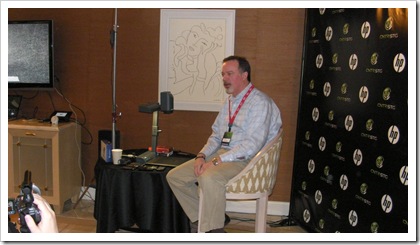 A platform update will be coming later this year that will provide the user with a significantly richer user experience.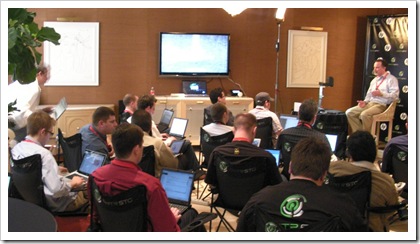 Demonstrations coupled with exciting discussions made this presentation well worth attending. CNTRSTG has provided a significantly different experience for bloggers attending CES this year. Not only the opportunity to gather and discuss amongst ourselves current trends but to have the ability to interact with vendors, offer thoughts and experiences has provided a unique opportunity for communication and acquiring knowledge.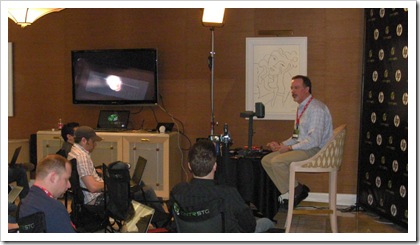 Phil McKinney from HP sat with a large group of CNTRSTG attendees discussing HP Touch.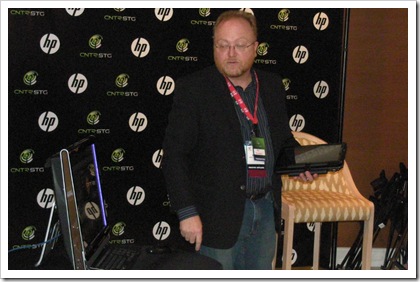 Do you know what was the first HP Touch product?
Produced in 1981, it was called the 2700. It was made for one year but from that introduction, there came a long series of developments in the HP labs to eventually lead us to what we were able to see today. The Misto Table was a concept device that we saw at CNTRST. Unfortunately it is a device for research but from it, there was an understanding gained that developed into an insanely simple Touch computer experience. Pretty much if you know how to use an ATM machine, you can use the HP Touchsmart.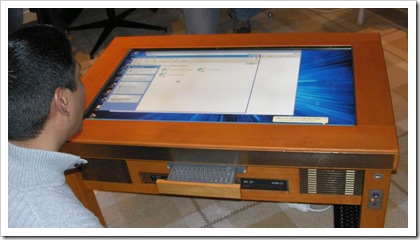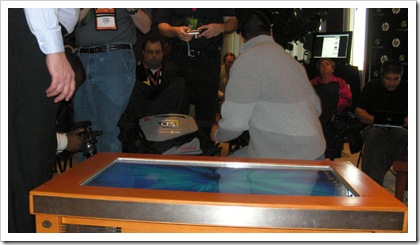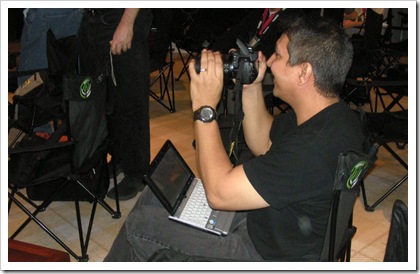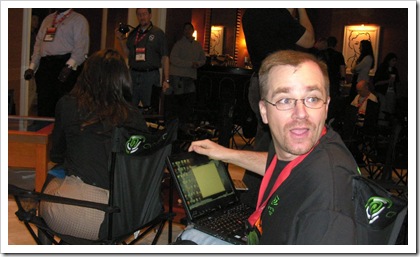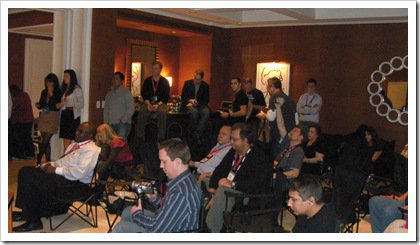 Touch is personal!
Where will we go from here? Gestures? HP has entire labs dedicated to gestures…. as well as entire labs dedicated to TOUCH. This was an awesome presentation.
HP sponsored a round table discussion on the promise of Digital Entertainment at CNTRSTG today. It was an exciting discussion covering a myriad of topics relating to today's trends in Digital Entertainment.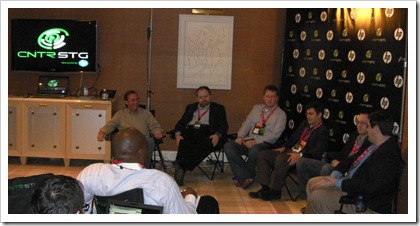 The audience was engaged in an interactive discussion … this was a great addition to the CNTRSTG agenda.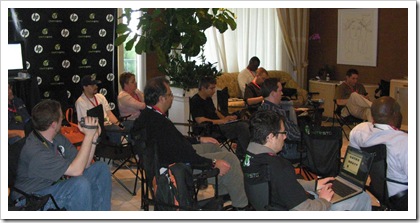 Adapt Mobile a leading accessory company in Europe and Asia has just finished their presentation on the effect of the global economy and how accesories can help companies survive the recession.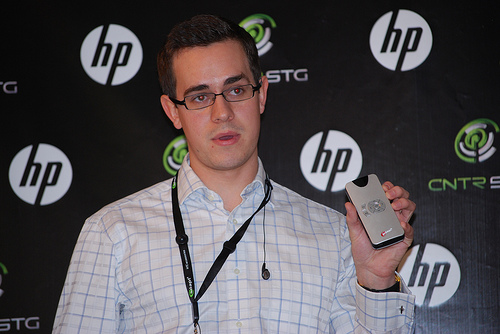 Adapt Mobile has several designs that are customized and geared to the latest models of portable consumer electronics that are broken down into three main categories and are aimed to help consumers in their decision and purchasing experience as well as help build the brand of the product:
pX- Phone Experienc for HTC SOny ERicsson, Blackbeery, Palm
mX - Multimedia – Appple,Asus, Acer
gX Gaming Xperiencee NItnetdo Wii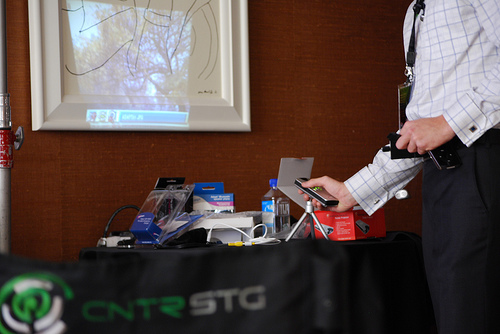 The big hit of their presentation was their Pocket Projector than can project an image from 6″ – 50″ using LCoS optical technology with white LED as the source at 10 Lumens. It has an external 3-in-1 AV jack and can also project images and video from the built-in memory or memory card.
They had a quick contest for a marketing slogan voted on by the audience and gave one away.
Adapt Mobile will be presenting at 10 am this morning. Adapt is a leading accesory company in Europe and Asia. They will be presenting how accessories can help you survive a recession.  Their line is customized and geared to the latest models of mobile devices available. Prizes will be given away to the attendees as well including their latest Pocket Projector.
Tracey Trachta, HP's leader of Global Initiatives for the PC business, gave a great presentation at CNTRSTG on how the company's latest marketing effort to engage and connect with the influential Net Generation is bringing new users, viewers and readers to youth and tech sites around the world.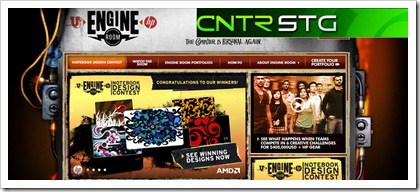 Tracey was joined by SuChin Pak, the host of a TV program which was the centerpiece of the effort.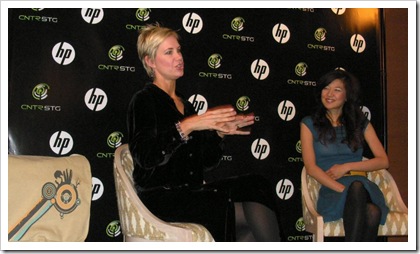 We had the opportunity to see this year's winning laptop design … it was very cool!  Check out the press release below!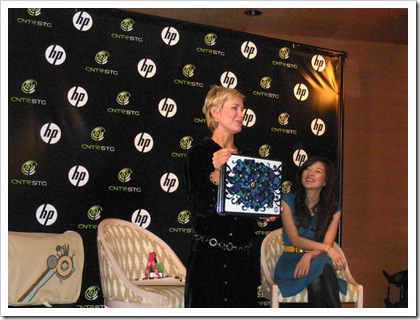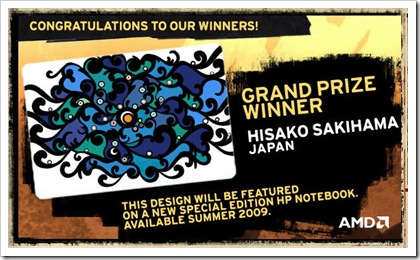 HP, MTV and AMD today named Hisako Sakihama, a 27-year-old designer from Japan, the winner of its "Engine Room" Notebook Design Contest – a worldwide competition to design the next HP "artist edition" notebook PC.

Sakihama's design of sea and sky in Okinawa was chosen as the grand prize winner from the regional finalists by a judges panel composed of regional heads of creative at MTV, art directors at Goodby, Silverstein & Partners, and industrial design managers at HP. The design will be featured on an HP limited-edition notebook PC featuring the AMD Turion X2 Ultra™ notebook platform later this year.

The regional finalists received the most votes and represent the top designs from Asia Pacific, Europe, Latin America and North America. To view the winning designs, visit www.mtvengineroom.com.

This year, artists from 94 countries submitted nearly 17,000 designs with the hopes that their art would be displayed on an HP notebook PC. More than 62,000 votes were received from 159 countries, making the Engine Room Notebook design contest one of the most successful user-generated contests from HP to date.

This year's regional finalists include Rodrigo Daniel Diaz from Argentina, Carlos Alonso Zebenzuy from Spain, Abhishek Goswami from India, and Stacy Rezzola from the United States. The regional finalists will have their art transformed into notebook attachable "skins" from SkinIt, which will be made available to consumers around the world.

"The response we've received from creative people around the world has been astounding," said David Roman, vice president, Marketing Communications, Personal Systems Group, HP. "Design is one of the most personal ways we communicate with each other. It's evident from these winning designs that there are some very talented young artists out there. We look forward to delivering the next-generation HP 'artist edition' notebook PC designed by Hisako Sakihama."

People who visited the "Engine Room" website and voted for their favorite design were automatically entered in a sweepstakes to win technology prizes from HP.

"As the processing power behind today's most advanced visual computing experiences like gaming and HD video, AMD understands the importance of stunning images," said Nigel Dessau, senior vice president and chief marketing officer, AMD. "In partnering with leading global brands like HP and MTV, AMD brings notebook inner beauty and performance to match the inspired creativity of the artists participating in the notebook design challenge."

"Engine Room"

"Engine Room" is an original series, created by MTV, HP and partners in which young artists from around the world can showcase their creativity and bring art to life with technology.

The first series of "Engine Room" challenges brought together four teams of digital artists from Latin America, Europe, Asia and North America to compete on an original, short-form online series that aired on mtvU – MTV's college network – and on MTV channels around the world. At the conclusion of the 2008 "Engine Room" series, host Suchin Pak announced the latest digital artistry challenge – the HP, MTV and AMD "Engine Room" notebook design challenge.
Find out more about MTV EngineRoom here